General & Cosmetic Dentist for Santa Rosa & Petaluma
---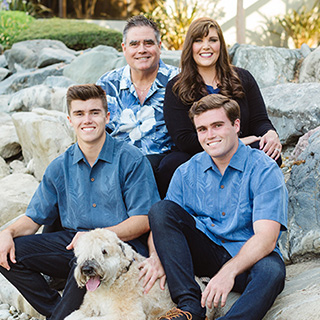 Proudly serving Sonoma County
Our experienced staff offer comprehensive dental examinations at our Rohnert Park office and specialize in a wide array of dental services. We use only the most advanced technology and are committed to improving the quality of life of persons in the Rohnert Park community through enhanced dental services.
Give yourself the gift of a bright smile – schedule an appointment with Wayne Sutton, DDS today!
Monday: 7:30am – 4:00pm
Tuesday: 7:30am – 4:00pm
Wednesday: 7:30am – 4:00pm
Thursday: 7:30am – 4:00pm
Friday: Closed
General Dentistry
Dr. Wayne Sutton and his team provide comprehensive dental care to families in Rohnert Park and throughout Sonoma County. Services include cosmetic dentistry, restorative techniques, periodontal treatment, preventative care and much more. Dr. Sutton fills cavities, treats gingivitis and polishes teeth to get them their whitest. He and the entire office also take the time to get to know you and your family, and work hard to ensure every office visit is a comfortable and satisfying experience.
Prevention and Restoration
Our team is focused on prevention and we are proactive in treating conditions that affect the health of your mouth, and even your overall health.
It all begins with an exam and cleaning, during which Dr. Sutton will assess the health of your gums and teeth, look for cavities and other potential problems in early stages of development, clean and polish your teeth and provide a fluoride treatment to prevent future decay.
Dr. Sutton uses every dental technique at his disposal to keep the gums healthy, tooth roots properly connected to the jawbone and your teeth in alignment for a smooth biting motion. When it comes to restorative procedures, Sonoma Smiles offers fillings and root canals to stop tooth decay; crowns to strengthen weakened teeth; dental bridges, dentures and implants to substitute missing teeth; and deep scaling and root planing to counteract periodontal disease and shrink the gum pockets where bacteria can accumulate.
Because early symptoms of periodontal disease are not easy to spot, it is imperative to have a professional look for them. When plaque builds on the surface of your teeth, it forms tartar, which allows bacteria to flourish. Consequently, the microbes create larger pockets in your gums, which can loosen the teeth and damage the bone. Dr. Sutton makes gum health a priority, ensuring that your gums remain a firm, healthy foundation for a lifetime of smiles.
Cosmetic Dentistry
Dr. Sutton also has an extraordinary depth of experience in the techniques of cosmetic dentistry, employing the most advanced technology to add beauty, elegance and sparkle to your smile.
Highly customized cosmetic procedures include tooth whitening products that dramatically brighten your teeth, porcelain veneers and dental bonding that allow you to mask aesthetic flaws and Invisalign orthodontic treatment to straighten out your smile.
Patients enjoy the freedom to choose among several effective teeth whitening options, including the KöR Whitening Deep Bleaching System, Dr. Rod Kurthy's Deep Bleaching and convenient trays for home use.
There are many other cosmetic options available at Sonoma Smiles, and our team is happy to help you choose the procedures that best fit your lifestyle and expectations. By sharing your dreams for a glorious smile with Dr. Sutton, you can benefit from techniques that will enhance your smile, your image — and ultimately your enjoyment of life.
Read our Bestselling Book
Dr. Sutton has authored a book about cosmetic dentistry. The book covers all aspects of cosmetic dentistry and gives the reader a bird's eye view on all major procedures and techniques. The book was well received and climbed to the top of Amazon's bestsellers list few weeks after its launch. The book's success was covered on CBS and ABC News, among other media channels, and now the book is available in our office for you to read!