Dentures for Santa Rosa & Petaluma
---
Dentures are an excellent and reliable way to replace teeth that are missing due to disease, decay or traumatic injury. Individuals can enjoy the look and feel of natural teeth (and the accompanying confidence) with custom-made, high quality dentures.
Dr. Wayne Sutton places full and partial dentures at Sonoma Smiles; he also helps his patients with dentures care for and adjust their appliances over time (as maintenance is required on occasion).
What Dentures Accomplish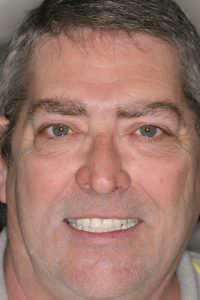 Dentures are plastic appliances that fit into the mouth and replace the lower arch of teeth, upper arch of teeth or both. Upper dentures have an acrylic base that fits over the gums and covers the roof of the mouth (the palate). Lower dentures fit over the gums and have a horseshoe shape that accommodates the tongue. Full dentures replace all of the teeth, and partial dentures are attached to the remaining natural teeth to fill in sizable gaps left from missing teeth.
Traditional upper and lower dentures are usually removable and can be easily taken out of the mouth at any time for cleaning or sleeping. Alternatively, modern dentures can be secured to the jawbone with several dental implant posts for added stability and support.
Denture Benefits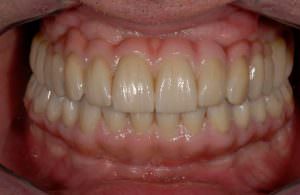 Dentures restore the appearance of a full set of healthy teeth. Today's dentures are made with the most advanced and lifelike materials available, so they are virtually indistinguishable from natural teeth. Dentures not only help to create an attractive smile, but also fill out the appearance of the face and profile. Losing all of the teeth can cause the facial muscles to sag and the jawbone to deteriorate; luckily, dentures provide the support needed to prevent these complications from happening. The jawbone and facial muscles stay stimulated to maintain a normal facial appearance. Dr. Sutton uses the very best custom dentures available called "Fountain of Youth" dentures.
Functional Benefits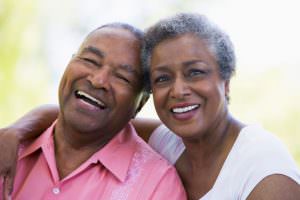 Speaking and eating without teeth is extremely challenging, but dentures restore full function. After acclimating to the appliance, the wearer can chew foods normally and speak without making whistling or clicking noises. Dr. Sutton ensures that all dentures are well fitted to sit comfortably in the mouth with minimal slipping.
Health Benefits
Because dentures allow for unencumbered chewing, they help support a healthy, well-balanced diet and prevent nutritional deficiency problems. And also, since chewing on the denture appliance keeps the jawbone stimulated, the bone does not deteriorate and lead to related health complications.
Partial & Full Denture Fitting and Placement Process
Dr. Sutton offers conventional full dentures and partial dentures. Full dentures replace all of the teeth in the upper jaw, lower jaw or both. Partial dentures replace some of the teeth and are affixed to the remaining natural teeth.
Dentures are completely customized to the measurements and specifications of the individual patient. Crafting them takes several weeks at a dental laboratory. To get started, Dr. Sutton examines the gums and the supporting jawbone. He may need to extract remaining failing teeth before the dentures can be placed. He also takes measurements and impressions of the patient's mouth to create a model of the jaws. This information is used to fabricate the permanent set of dentures.
If Dr. Sutton has to remove teeth, immediate dentures can be placed so that the patient does not have to go toothless while the permanent appliances are being made. Immediate dentures help with the healing of the extraction site and act as an aesthetic replacement for the natural teeth. Immediate dentures typically come in standard sizes and shapes but if needed, can be modified for fit and comfort. Dr. Sutton finds that most people appreciate having a backup denture just in case something happens to their new custom denture.
Implant Supported Dentures
Dentures can be supported by and attached to dental implants. Several implant posts can be surgically placed in the jawbone with special attachments that snap onto the denture appliance. The placement process requires several additional appointments and Dr. Sutton can discuss how the process works in more detail during a consultation.
Adjusting to Life with Dentures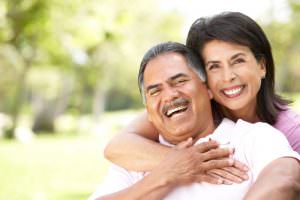 It takes a few weeks for the cheeks, lips and tongue to adjust to dentures. Minor soreness or irritation is normal during the acclimation period and should subside quickly. Chewing may be challenging or feel uncomfortable at first, so it's wise to take small bites of soft foods. Chewing on both sides of the mouth simultaneously is important to adjust to eating with dentures. Gradually working up to larger pieces of soft foods and then switching to normal foods is advised.
Speaking and enunciating certain words can also be challenging at first. Reading out loud is helpful. Most denture wearers become comfortable speaking within two weeks of denture placement.
A well fitted denture appliance should sit securely in the mouth without denture adhesive. A lower denture fits slightly looser than the upper denture, but with practice, the wearer can learn to use the muscles of the tongue to hold the lower denture in place. Over time, it becomes intuitive to do so.
Dentures may be removed at night for daily cleaning. They are delicate and should be handled with care to prevent breaking them. Dentures may be left in cleanser soaking solution overnight so they don't dry out. The gum, tongue and palate also need to be brushed daily with a soft-bristle brush to remove plaque, stimulate circulation and prevent a strong odor.
Occasionally, dentures need to be relined or rebased. The mouth, gums and bone change shape over time and the dentures should be modified to accommodate. Expect to have them relined or rebased by a dentist every two or three years.
Should dentures become chipped, cracked, loose or otherwise damaged or ill fitting, Dr. Sutton should be notified. He can make the necessary modifications to the appliance(s) to repair damage or restore a comfortable, secure fit in the mouth.
Dentures FAQs
What are "Fountain of Youth" dentures?
Dr. Sutton is proud to offer patients in Rohnert Park and throughout Sonoma County a remarkable new option for replacing lost teeth: The Denture Fountain of Youth®.
These full-mouth dentures are highly customized and therefore provide a better overall fit. The major differences between this innovative product and traditional dentures are the fact that the measurements used to create your set of FOY dentures will include impressions of the remaining teeth and that targeted measurements of muscles will be taken to ensure your new set of dentures will fit your facial structure, not just your mouth. This "neuromuscular" approach results in a more natural facial profile by plumping lips, filling in sunken facial areas and improving lines and wrinkles around the mouth.
After taking into account all of these variables, Dr. Sutton is able to craft a set of dentures that matches the full natural height of your teeth and every nuance of your jaw. FOY dentures also tend to be more stable in the mouth. As a result of this, they can be placed in a more natural-looking forward position. This added stability also reduces slippage in the mouth, allows you to eat a wider range of foods and lets you be confident in any social situation. FOY dentures are more expensive than traditional dentures, but many patients decide the substantial advantages are worth the added cost.
Should I consider implant-supported dentures?
Apart from a full set of implants, implant-supported dentures offer the highest degree of stability and permanence for patients seeking to replace missing teeth. Because implants are rooted directly into your jaw, your new set of artificial teeth are securely anchored. Implants are especially useful for patients who need to replace lower teeth. Lower dentures need to leave space for the tongue, making them less secure. For that reason, implants are generally the preferable option.
Why not simply live with missing teeth?
When you allow gaps to remain in your mouth, the other teeth in your mouth are prone to drifting, which could cause your bite to change and your jawbone to start atrophying. Furthermore, the lips and cheeks do not have the full structural support without teeth behind them, so you may develop sunken-in features. Patients with missing teeth are more likely to develop cavities, gum disease, a speech impediment and temporomandibular joint disorder (TMJD).
Dentures or implants not only fill gaps in your smile, they also preserve the bone in your upper and lower jaw. Keep in mind that the longer you wait to replace your missing teeth with dentures, the more difficult it will be for dentures to fit securely in your mouth. For the sake of the ongoing health and functionality of your mouth, do not procrastinate on this important procedure.
Are bridges the same thing as dentures?
A dental bridge is an arch of artificial teeth that are either anchored into place with dental implants or two adjacent crowns. Like implants or partial dentures, a bridge not only improves the look of your smile, but also promotes the overall health of your mouth and jawbone.
Bridges come in a variety of materials, including resilient composites, porcelain and metal, aluminum, and zirconia. When a patient chooses the option of a bridge that is anchored by dental implants, Dr. Sutton offers the advanced Teeth Tomorrow® system that secures a Prettau® zirconia bridge in the mouth with as few as four titanium-root implants.
Learn More about Dentures
If you are missing most or all of your teeth, due to dental disease, decay or injury, and would like to learn more about your replacement options, Sonoma Smiles can help. Dr. Sutton can discuss dentures and their alternatives, and help you select the best solution for your needs. Please contact (707) 585-2555 or email our office today and request an informational consultation with Dr. Sutton.