Dental Bridges for Santa Rosa & Petaluma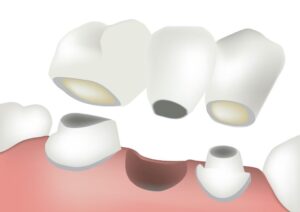 A dental bridge fills in the gap created by a missing tooth with a prosthetic tooth. To keep the new tooth in place, the doctor will anchor it to the existing teeth on both sides of the gap permanently via a bridge. In cases where the patient has multiple missing teeth in a row, a bridge can also successfully fill that space with multiple teeth.
Dental Bridge Procedure Details
Dr. Wayne Sutton is one of Sonoma County's most trusted dental surgeons with extensive experience providing quality bridges to his patients. A patient typically receives a dental bridge over the course of two appointments. During the first visit, Dr. Sutton prepares the teeth on either side of the gap for a bridge, and takes an imprint to create a permanent bridge that fits snuggly in the mouth.
Wearing a temporary bridge until returning for a second appointment, the patient will then have the permanent bridge cemented in after Dr. Sutton checks that the fit is right.
Benefits of Having a Dental Bridge
There are multiple important reasons to get a bridge rather than leaving an empty space in your mouth:
It restores an attractive smile and the self-esteem that comes from being able to smile fully.
It enables the patient to eat and chew in a more normal manner.
It promotes positive oral health — not only is it easier to brush with a full set of teeth in place to improve oral hygiene, but filling a gap prevents real teeth from shifting out of place and keeps the surrounding bones healthier.
Not having gaps in your mouth improves the quality of your speech.
Types of Bridges
Conventional Fixed Bridge
For the traditional approach, Dr. Sutton fits the teeth adjacent to the gap with crowns to ensure they are strong enough to support the bridge. These bridges are available in a variety of materials like porcelain and zirconia.
Resin-Bonded Bridge
A resin-bonded bridge is the most common method for replacing missing front teeth. Since these teeth are the most visible, it is less easy to conceal crowns that traditional bridges rely upon. Instead, the bridge utilizes "wings" that connect to the backside of the nearby teeth for support.
Cantilever Bridge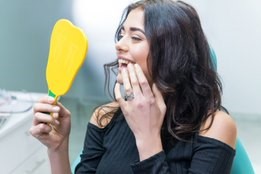 What makes a cantilever bridge unique is that the bridge attaches to a tooth on just one side rather than both. The reason for connecting to only one side could be that no other teeth exist on the other side of a gap or, aesthetically, it would look worse to attach a bridge to that location.
Prettau Zirconia Implant-Supported Bridge
For a patient whose mouth lacks the teeth to hold in a traditional bridge, the doctor may suggest an implant-supported bridge that connects to the jawbone instead. Dr. Sutton is proud to offer Prettau® Zirconia, one of the most functional and aesthetically pleasing options for implant-supported bridges.
How to Schedule a Consultation
Dr. Sutton can help determine which type of bridge is the right fit for you, all while remaining in your price range. Email the team at Sonoma Smiles to set up a consultation.