Lumineers for Santa Rosa & Petaluma
---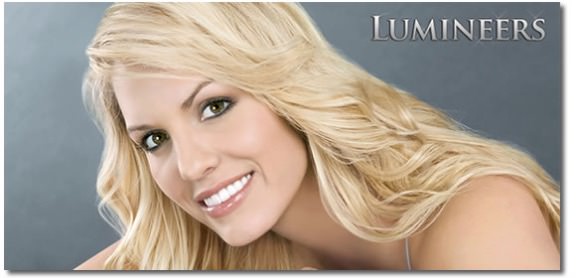 Lumineers for that Hollywood smile?
Patients who want to focus on tooth preservation by minimally altering their natural teeth will enjoy the benefits of Lumineers. They are best suited for patients with spacing in their existing teeth and also have minor tooth rotations.
At Sonoma Smiles in Rohnert Park, we use what are known as conservative bonding techniques. This means that Dr. Sutton will only remove the necessary amount of tooth enamel to allow the ceramist to create life-like, beautiful teeth for our patients.
In many cases, no grinding, cutting, or filing down of any tooth surface is required to achieve proper placement with Lumineers. An adhesive is used to bond the veneer to the front or "facial" surface of the teeth, thus making the process minimally invasive.
No Anesthetic Required
Unlike traditional porcelain veneers, since there is typically no drilling, grinding, or cutting of any type, a local anesthetic is not necessary when using Lumineers or any of our other minimal or "No Preparation" style veneer products.
The bonding procedure eliminates the need for shots and drilling of sensitive tooth structures. What's more, the dental procedure for placing Lumineers can be accomplished in one visit.
As always, Dr. Sutton offers conscious sedation for his patients that suffer from dental anxiety.
Advantages of Lumineers:
A painless procedure
Sensitivity-free results
Permanently white results that last
A quick and easy process
Your Lumineers can be installed in two easy visits to bring out a beautiful new smile. During the first visit a precision custom mold will be taken so that personalized veneers can be created, then you and Dr. Sutton will choose the shade you think works best for your new, permanently white smile.
On your second visit, your Lumineers are checked for fit and shade then painlessly attached giving you a healthy, natural smile that you have always dreamed of.
Motives for Using Lumineers:
Chipped/cracked teeth
Stained or discolored teeth
Spaced teeth
Misshapen teeth
Slightly crowded teeth
Worn teeth
Small teeth
A "Hollywood" smile
Braces substitute
If you are considering porcelain veneers or Lumineers, consult with Dr. Sutton and the experienced staff at Sonoma Smiles. We are qualified and experienced at creating beautiful new smiles using the safest and most advanced technologies.