Laser Gum Recontouring for Santa Rosa & Petaluma
---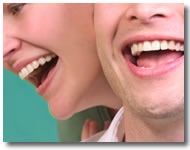 Improve your smile with gum contouring from your Rohnert Park cosmetic dentist!
Having the correct balance of healthy, well-contoured gum tissue helps to compliment the frames of the teeth and provide a radiant smile.
If you're one of the thousands of Americans that have the appearance of "short" front teeth, gum contouring may be the right solution for you. Underneath the excess gum tissue may be that inviting, beautiful smile you've been looking for.
This cosmetic dentistry process is a non-invasive, soft tissue laser process that can reduce your gums and make a huge impact on your smile. The process is painless and is done right here in our Rohnert Park cosmetic dental office.
Common Reasons for Gum Contouring
Reshaping uneven teeth edges and/or gum tissue is now relatively simple with Sonoma Smiles' gum contouring process. It can be used to correct the following:
Misaligned teeth
Uneven lengths
Uneven ridges
Uneven grooves
Gummy smiles
Inflamed, or swollen gums
Gum tissue that is swollen, red, or unsymmetrical in appearance may detract attention from teeth that are otherwise healthy.
Laser Gum Contouring Benefits
Dr. Sutton can return your gum tissue to a healthy state by reducing any inflammation and restoring the tissue to a pink and tight state.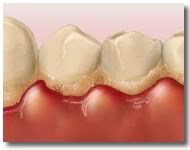 Symmetrical gum tissue around the teeth gives an attractive smile that can be accomplished by a gum contouring procedure. Often times gum tissue can be lower on one front tooth and not the other, giving an appearance that one tooth is longer than the other.
Other scenarios would be when excess gum tissue makes all teeth appear to be too short, or when a smile reveals that a person contains too much gum tissue. This is known as a "gummy smile."
How Laser Gum Treatment Works
First a one-on-one consultation with Dr. Sutton will address your concerns and you will work together to form a treatment plan that meets your goals.
Gum contouring involves the use of a non-invasive soft tissue laser to alter the gum line to the desired shape. Gum tissue is vaporized and sealed gently with no cutting, bleeding, or sutures.
Teeth that are misshapen or uneven because of an unattractive gum line will be formed to their desired shape. Depending on the complexity or the severity of the case, other cosmetic dentistry treatments may be suggested to provide you with a smile that is healthy and attractive. The whole process of gum contouring is remarkably simple and can make a great difference to one's smile.